How Easy To Use Is VETTX? We're Glad You Asked!
VETTX is a platform that was designed by car dealers for car dealers. It is so easy to use that you'll wonder how you ever got by without it. In this guide, you will learn everything you need to know to get started searching for quality used cars in your local area - or anywhere in the country for that matter!
We'll cover the following:
How does VETTX work with existing processes and infrastructure?
Do I need to learn a new software?
How can I get started searching for used vehicles?
How do I make the purchase?
Our platform is designed to make your job easier so you can focus on what really matters - closing more deals. Download this free guide today and find out if VETTX is right for you!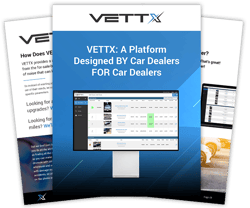 Download The Guide Today!